CHRISTMAS IS COMING- WATCH THIS SPACE
CHRISTMAS IS COMING- WATCH THIS SPACE
WELCOME TO THE SERIOUSLY GOOD CHOCOLATE COMPANY.

BOUTIQUE CHOCOLATES  |  CUSTOM DESIGNS  |  HANDMADE 
AUTHENTIC WINE & BEER INFUSED CHOCOLATES  |  KIWIANA, MADE IN NZ    

PURE NEW ZEALAND INDULGENCE
ONE BITE AT A TIME
"The Seriously Good Chocolate Company Limited acknowledges that the Swanndri marks are Registered Trade Marks and apologies for any potential misuse during our Father's Day promotions."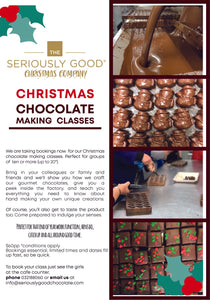 Love Chocolate? Tried to make it home and it didn't work. Why not come make it yourself!
Chocolate-making is great idea for team building exercises, parties or just getting together with your friends. minimum groups of 10.
You will learn the art of making chocolates and share some laughs along the way.
Don't worry there will be some chocolate tasting too!
Let's have some fun get in touch. 
Find out more by calling us 032188060 or emailing info@seriouslygoodchocolate.com
Contact us
PURE NEW ZEALAND INDULGENCE - HANDMADE CHOCOLATE, ONE BITE AT A TIME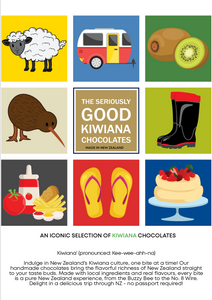 CONTACT US TODAY
info@seriouslygoodchocolate.com

PH 032188060

147 Spey Street, Invercargill, New Zealand 9810
VISIT THE CAFE
147 Spey St, Invercargill 9810
PH 03 2188060    |    info@seriouslygoodchocolate.com

Blog
---
Seriously Good Chocolate Co: 5 Reasons Why Our Chocolates Stand Out Introduction Have you ever wondered what sets Seriously Good Chocolates apart from the rest? We receive this question quite...
Introduction When it comes to making a lasting impression, few things can rival the allure of chocolate. It is a universally adored treat that brings joy to any occasion. At...
Seriously Good Chocolate Company is a small business based out of Southland, New Zealand. We are a team of chocolatiers who craft handmade seriously good chocolates inspired by New Zealand...